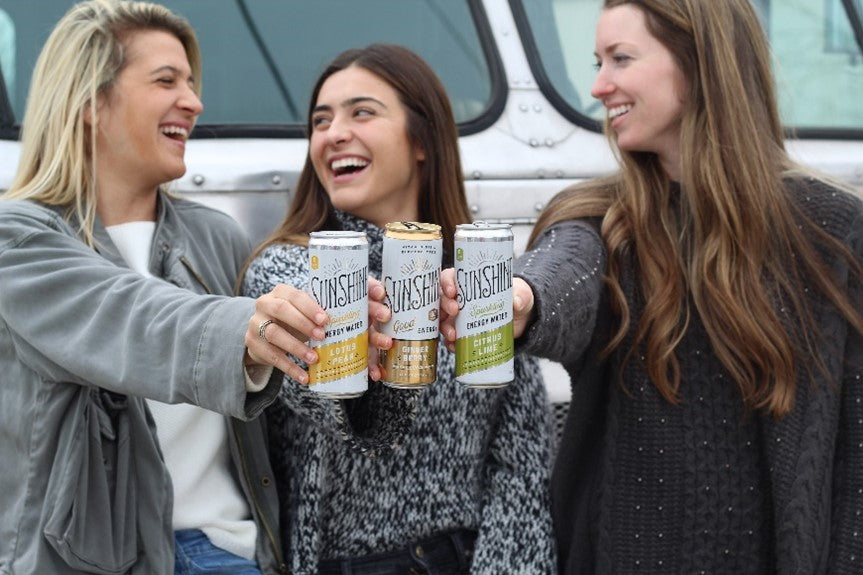 Sunshine - The Feel Good Energy Drink
If you are reading this blog, it is probably because you are a fan of the Sunshine Beverages better-for-you energy drinks. Well… we are too! With Valentine's Day around the corner, we want to tell you why our staff, Sunshine's biggest fans, love the product and the culture CEO- Lizzie Ward Roediger has created at Sunshine Beverages.
At Sunshine, we believe in making lives shine even ~brighter~.
We create beverages that help people feel their best, and we operate our business with the same mission. Through our people, our products and our practice, we seek to make this world a little better for each other and inspire others to do the same.
With six delicious flavors full of natural caffeine, vitamins, and electrolytes, Sunshine is sure to brighten the days ahead!
We asked three of our employees why they love sunshine and here is what they had to say:
Alisha, Key Account Manager:
What do you love most about working for Sunshine?
The people.  We have the best team – I feel very fortunate to say my favorite thing about coming to work is my teammates.  It's inspiring to work around such motivated, dedicated, smart, talented people.  It's so special to work with a team that feels more like a family.  It's difficult to find a work environment in which the team is a healthy mix of challenging and supportive with different personalities, strengths, and talents.  In my job search before joining the Sunshine team, I was very honest about the importance of company culture and the value of a fun-loving, hard-working team.  I found exactly what I was longing for at Sunshine.   
What is your favorite flavor and why?
My favorite straight out of the can is Clementine Twist.  It's so refreshing, and I look forward to having one every afternoon.  But, as a mixer, I prefer Blueberry Lemonade.  You can mix it with any spirit for a simple, delicious cocktail.  No matter what spirit you're drinking, Blueberry Lemonade is the perfect pairing!
How does Sunshine inspire you in your everyday life?
I'm always inspired by the hard work of my colleagues.  When you work on a team like ours, the energy and positivity from each individual inspires others on the team and makes for a culture of support and comradery, which I cherish because it's hard to come by.  As a brand and product, Sunshine inspires me to live a balanced, thoughtful lifestyle.  It reminds me to give myself grace, find joy and positivity every day, and to always try my best.  The brand is incredibly uplifting and has a positive spirit – you can't help but feel happy when you engage with the brand, the product, or our team. 
Michael, Controller:
What do you love most about working for Sunshine?
I enjoy working with this team. Everyone is motivated, outgoing, and optimistic.
What is your favorite flavor and why?
I've fully transitioned to the Energy Waters. I rotate between Citrus Lime and Lotus Pear.
How does Sunshine inspire you in your everyday life?
The optimism of the brand and the people is contagious. Also – when you hear from customers who love Sunshine it always energizes you and reminds you how much people love the products.
Beth, Marketing Director:
What do you love most about working for Sunshine?
The team!  They are all so very positive, hard-working, and energetic.
What is your favorite flavor and why? 
Lotus Pear is my favorite flavor.  I love the sparkling energy water because it's 0 calories and 0 sugar with tons of vitamins and just enough caffeine to get me through the afternoon.  I love pears and this product has a great pear flavor but is not too sweet.  It's my go to every day at about 2pm!
How does Sunshine inspire you in your everyday life?
Sunshine is all about making people's lives shine brighter.  It has inspired me to be more positive and always look for ways to make other people smile and brighten their day!
It is clear our employees not only love the product, but the mission and culture we created at Sunshine. Interested in trying Sunshine? Learn more about us and our unique flavors below. And please use the code "SUNSHINEBLOG" at www.drinkthesunshine.come for 20% off your first order.
Sparkling Energy Waters:  Pomegranate Acai, Lotus Pear and Citrus Lime
0 Calories
0 Sugar
70 MG of Caffeine
Vitamins A through E
Essential Electrolytes
Good Energy Drinks:  Ginger Berry, Clementine Twist, and Blueberry Lemonade
60 Calories
15g Sugar
Essential Electrolytes and Vitamins
70 MG of Caffeine
For more information about Sunshine Beverages, please visit www.drinkthesunshine.com. Be sure to follow us on Facebook and Instagram to stay up to date on Sunshine news and promotions.